Frequently Asked Questions (FAQs) about Public Adjusters
"When should I hire a public adjuster?"
"Am I required to get my insurance company's approval regarding the public adjuster I'd like to hire?"
"How do I know if a particular public adjuster is the best choice for help after we've had a fire in our home or business?"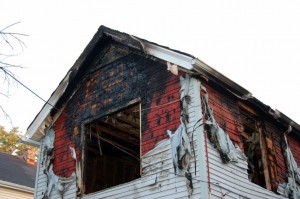 These are the types of questions about public adjusters that families sometimes ask themselves after unexpectedly suffering the devastating nature of something like a fire in one's home or business.
In many situations, homeowners, renters, business owners, or people who manage or own property as an investment have insurance policies that provide very detailed and widely varied coverage in many different categories. For policyholders lucky enough to have insurance coverage at the time of loss, there are still many more questions that must be asked and answered.
A qualified public adjuster can manage the insurance claim on behalf of the policyholder and help address the most important issues from start to finish in the process of filing a claim and negotiating a settlement favorable to the insured. This can be quite a relief and a helpful resource to the family or business that must rebuild a home or livelihood as quickly as possible.
"What exactly is a public adjuster?"
Wikipedia describes a public adjuster as someone who "advocates for the policyholder in appraising and negotiating a claimant's insurance claim". Laws regulating public adjusters vary from state to state, however, most states require public insurance claims adjusters to be licensed and that license must be kept up-to-date. At this point, it's helpful to be aware that there are a few different types of adjusters, so, we will provide some additional necessary definitions on this website so that you clearly understand the difference between a public adjuster and a claims adjuster, and, also so that you will understand the basic types of claims adjusters. The most important difference between a public adjuster and any other type of adjuster is that a public adjuster is the only insurance claims adjuster who represents the interests of the policyholder.
Understand that company adjusters, independent adjusters and your insurance agent typically work for the insurance company, and, no matter how nice these people are, they do not represent your interests once you are in a position to file a claim. A public adjuster negotiates on behalf of the policyholder and can help expedite favorable settlements following a loss. Public adjusters perform these services by charging policyholders a fee that it is usually 10 to fifteen percent of the total claim settlement.
In short, a public adjuster is your representative at the negotiating table for all matters regarding your insurance claim. Public adjusters can be quite useful for policyholders who do not have the experience, time or other necessary resources to handle and understand complicated either homeowner or commercial insurance policies. Good public adjusters regularly negotiate insurance claims that return significantly higher settlements favorable to policyholders.
Here in Connecticut, the Department of Insurance advises that public adjusters are "legitimate independent property insurance professionals who provide an important service, particularly where a claim is unusually complex." As with contracting any professional to do work for you, you should not hesitate to shop for a public adjuster by asking for references from your personal network of friends and business colleagues, community officials, or other contacts past or present before you make your decision to hire.
"But my insurance company says that they've already assigned an adjuster to my claim and that I don't have to pay an outside adjuster."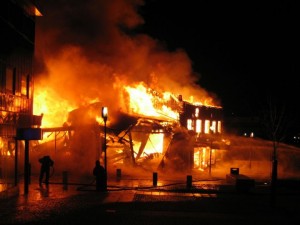 Don't be mistaken about what's at stake when disaster hits and you need to file a claim. Let's strip away all the nice pitches, and feel-good vibes you get from your insurance agent because you are a customer. The bottom line is this: your policy is a contract written by your insurance company, and, the adjuster who they tell you is working "for you" is paid by your insurance company.
Once again, any policyholder needs to remember that a public adjuster is the only insurance claims adjuster who represents the interests of the policyholder. The only way to be sure that any adjuster is truly looking out for your interests is to hire him or her. You can bet that your insurance company's managers are sure that the adjusters they hire are looking out for their interests.
Policyholders have the same option for representation when a potentially costly claim is at hand. If you get the sense that your claim is going to be complicated and that there will be any areas where you may not agree with what your insurance company wants to pay to settle the claim, then a public adjuster can be quite useful in maximizing what you collect while you try to get your family's or tenants' lives back on track.
A good pubic adjuster can also be helpful in minimizing the amount of time required to get the best settlement possible. Don't fall for the subtle play-on-words tactics some insurance company personnel use to help keep you from hiring a public adjuster if that's what you are inclined to do.  A qualified public adjuster is more than "an outside adjuster" – a public adjuster may be the only chance the interests of the policyholder have for representation.
"My damage claim looks pretty simple and I'm pretty sure I can handle this without a public adjuster."
Great! Consider yourself lucky! Make the necessary phone calls to your insurance company, fill out the required forms, collect your fair settlement and get back to normal life!
However, if you've suffered structural damage or moderate to severe property loss as a result of your fire or catastrophe, you may be getting involved in a loss claim that's much more expensive and complicated than you realize at first.
The trick is to figure out quickly whether you need help with this claim. If you need help, you most likely know it. Just realize that when a public adjuster helps you, your interests come first. A good public adjuster may be the only insurance a policyholder has that his or her claim will be handled fairly. Once an insurance company learns that someone who "speaks the lingo" and "knows the ropes"will be handling your claim, you can be sure your claim will be handled in a way that ultimately benefits you, the insured.
A good public adjuster can help assess costly damages related to cleaning up and rebuilding and can then help expedite the whole process of a fair settlement and a top quality restoration. If you get help from a claims adjuster hired by your insurance company, understand that the "help" will be on their terms. If you choose to get help from a public adjuster, you can at least know that assistance will be in your best interest.
Still don't know whether you need to hire a public adjuster? Here are 10 questions that can help you decide:
If you are still undecided about hiring a public adjuster, ask yourself the following questions – the more you answer no, the more you need a public adjuster:
Have you ever read your entire insurance policy?
Can you find a copy of your insurance policy right now?
Do you understand all the language in your policy?
Are you familiar with the covered perils in your insurance policy?
Honestly, have you ever signed a contract without really reading and fully understanding everything within the contract?
Did you know that because insurance policies are contracts of adhesion, if there is any confusing or ambiguous language in your policy, any related disputes with the insurance company tend to be decided in favor of the policyholder should such a dispute be forced to go to mediation (f.y.i. in insurance terms this is called "appraisal") between the insured and the insurance company?

Do you have any recent experience with housebuilding, disaster cleanup and restoration, or the type of specialized contracting required to rebuild any part of a structure intended for housing or commercial operations?
Do you really have the time to file a detailed insurance claim with an itemized damage repair cost estimate, and do you have the time to follow up on all aspects of your claim in a timely manner?
Do you trust that your insurance company will not cut any corners in order to reduce the expense of your claim?
Have you been able to avoid asking your broker or insurance agent for advice about your claim?
If you answered "no" to less than 3 of the above questions, you might be able to do fine without a public adjuster. If you answered no to more than 5 of the above questions you may want to seriously consider hiring a public adjuster to assist you and your family with your claim. If you answered "no" to more than 7 of the above questions, our advice is that you don't ever try to file any sort of substantial claim without contracting the professional services of a good public adjuster.
Did this website help you? Please let us know!
If you like claimadjusterfire.com and find our information useful, be sure to "like" Leon Collins, Public Adjuster on Facebook and follow us at "PublicAdjustPro" on Twitter so you'll receive updates, tweets and and other alerts we hope you'll find helpful.
We welcome all comments, questions and posts relevant to public adjusters and property insurance claims assistance. Thanks again and please let us know what you think!
Thanks for visiting claimadjusterfire.com.

>
Carrier Dropped You After You Filed a Claim This Winter?
This Public Adjuster Says You Are Not Alone.
I just got some feedback from an industry colleague this morning that made me sick as a Public Adjuster. Sadly, I fear that dozens or perhaps hundreds of homeowner's insurance policyholders across Connecticut and New England (many of whom have been kept in the dark about the potential benefits of using public adjusters) have already been or will soon be forced to pay much higher premiums for property insurance because carriers have decided almost unanimously now that new unspoken rules apply and are in full effect.
Public Adjusters Push for Clients as Insurance Industry Pace Still Suffers from Past Winter's Deluge of Claims
The winter we just survived was the worst on record here in Connecticut and public adjusters in New England are still quite busy serving clients who are repairing home and businesses that suffered ice dams, pipe freezes galore and worse. Most of the re-building and repair efforts are moving along, but, claims and recovery are still definitely moving forward at a slower pace than usual. For example, many customers are right now waiting for their insurance carrier to make the next move on a claim that has already been open for several weeks. "Patience" is the pep talk many clients have heard from public adjusters who have watched an already painfully slow claims process move even more slowly because of the extremely high number of claims filed for losses this past winter season.
And then, I heard this ugly news from the owner of a local plumbing business who talked to a manager at a local supply house this morning. The manager shared that at least a dozen plumbers have told him pretty much the same story – homeowners who have filed claims recently are being dropped by carriers and left sometimes with only the most expensive alternatives for property insurance coverage. I'm talking about clients who did nothing wrong other than file a claim for something like pipe freeze damage after paying insurance policy premiums religiously for years.
You Got Dropped and You did Nothing Wrong – A Game Plan from a Public Adjuster to Help You Move Forward
So, what should you do if you find yourself in a panic because you have an open claim for a frozen pipe flood, roof collapse or ice dam loss from this past winter and your carrier has dropped you? Here are some tips:
First, consider getting help with your claim from a public adjuster familiar with claims process. Carriers tend to sing a whole different tune when a licensed public adjuster levels the playing field by representing a client on a loss. Many carriers routinely take advantage of customers who are unfamiliar with the services and coverage to which they are entitled after they file a claim. You may have been dropped and excluded from future coverage by one particular carrier, but you don't have to take a financial beating on your open claim too because the adjuster handling your last loss with that carrier noticed you didn't have a public adjuster looking out for your interests.
Next, contact your agent or broker as soon as you hear you will be dropped. Have your agent or broker shop around for new coverage from a different carrier.
If that doesn't work, in the short term, contact your mortgage company if you have a mortgage on the property and ask them to help you find insurance coverage. This doesn't have to be coverage that lasts forever, and most likely your mortgage company will be glad to help you find coverage for the interim or longer. However, expect that this will be at a higher premium rate. It'll hurt to pay the inflated premium, but it's better than the risk of no coverage at all, which your mortgage company probably won't tolerate.
As a last resort (at least from our experience as public adjusters here in Connecticut), you can try to get a policy through the F.A.I.R. plan and they'll provide some form of coverage. F.A.I.R. is an abbreviation for Fair Access to Insurance Requirements, but, here locally in the Constitution State, F.A.I.R. is a misnomer of sorts because any coverage you get through a carrier in this program will be a noticeable downgrade in premium pricing (it's high), policy coverage (it's less), and customer service (it's going to be worse). As distasteful as you think your insurance experience may have been by getting dropped by your previous insurance company, it'll be worse if you have to ever file a claim with a F.A.I.R. plan carrier.
I hate to generalize or make assumptions, but I'm concerned that this recent ripple of dropped homeowner policies that I have witnessed as a public adjusters serving clients in Connecticut may actually be a much bigger wave, and, could be as record-making as the snowfall totals in Boston this past winter. This could be sad and costly news for many. Did I say it doesn't cost anything to talk to a public adjuster before you file any claim?
Agent Tells Public Adjuster of New Limits by Insurance Carriers: 2 Non-Weather Claims per Customer
To further investigate this perceived trend from a perspective other than that of a public adjuster, I called a friend who has been an insurance agent for more than 20 years for one of the most popular carriers for homeowner insurance policies. We all know the name of his company. I have counted on this respected industry colleague in the past for information from the other side because I know he is as dedicated to his customers as I am to mine.
"Leon, you've got an industry that's hemorrhaging on two fronts. One, you've got a client base that hasn't been educated by agents, brokers or public adjusters about when to file claims and when not to file. My company held out on following suit for a while, but now, we're beginning to do what all the other companies are doing. There are new limits. Everybody gets two non-weather related claims in three years. In some cases, you might get three. However, more often now, you get two non-weather related claims on your homeowner's policy and that's it. Now, more than two in that time period and you get dropped, and, you may have done nothing wrong.
The second issue is that the insurance industry is dealing with a record number of claims because of this past winter and carriers have had to pay out tremendous amounts of money. If you even call the carrier to ask a question about filing a claim that could be a strike against you. That alone sends up a red flag."
"Oh," I said, "So, you're a problem in their eyes if you're smart enough to ask questions about the claim before you file?"
"Exactly. That's why I tell my clients, call me directly first before you call the 800-number. That call could end up on their C.L.U.E. report. "
Another Tip from a Public Adjuster: Get a C.L.U.E.
For those not familiar, the C.L.U.E. (Comprehensive Loss Underwriting Exchange) report is a database of insurance claim information that carriers consult to investigate client claim history, however, public adjusters and policyholders themselves can use it too. Lexis Nexis generates the report and keeps it updated regularly. The good news here is that Lexis Nexis will send your C.L.U.E. report to you for free once a year if you contact them. This way, you can see what the insurance industry sees when they're thinking about you and your property.
As a public adjuster, I have to add this: be sure that if you are going to call your agent or broker first that he or she is the kind of agent or broker who would advise you to get the assistance of a good public adjuster if you were in over your head on any homeowner property insurance claim. Keep in the back of your mind that your agent might have an interest in your not filing a claim for a loss. A good public adjuster will warn you that in some cases, insurance agents are rewarded by carriers for having clients whose low loss ratio makes it easier for the carrier to remain profitable.
Last Advice from a Public Adjuster: If You Have an "Active" Insurance Claim History, Think Before You File
So, with these new "unspoken" limits in mind, if I'm your public adjuster, and, you tell me that you had a non-weather related flood claim and you also had car burglary claim (the car wasn't stolen, but someone broke in and stole property) in you driveway in the past 3 years, I'm going to tell you to think hard about your next claim on your present homeowner's insurance policy because you might get dropped if you file it.
Are Other Public Adjusters and Agents Seeing Clients Dropped by Insurance Carriers Faster Now?
I wonder how widespread this recent trend is and I'd really like to hear from other Public Adjusters. I'd also like to learn what other property insurance industry professionals have witnessed and anything that might help a homeowner in jam with no coverage. Most of all, and probably because I'm a public adjuster, I want to hear from any recently dropped policyholders who can add to the discussion – thanks in advance, everyone.

>
Public adjusters and insurance carriers know that winter is the season for insurance claims.
Fortunately, the Blizzard of 2015 wasn't the worst for most of New England. The snow was light and fluffy and the windy snowstorm tracked out to the Atlantic Ocean more a bit more quickly than expected. Even though the winds topped 40 miles per hour, Winter Storm Juno just didn't deliver the kind of snow that clings and brings down power lines causing widespread outages. However, the big storm at the end of January made one thing perfectly clear this year: despite seasonably mild temperatures the past few weeks, winter has definitely arrived in the northeast U.S.
One out of every five property insurance claims filed from 2008 to 2012 was the result of water damage or freezing caused by extreme winter weather conditions.
Source: Insurance Information Institute
If you are worried about the potential cost of rebuilding after having suffered winter storm damage, you have good reasoning and statistics to back your concerns. "Losses from snow, ice, freezing and related causes totaled $2.3 billion last year," says the Insurance Information Institute ,"the last two years have been well above what the insurance industry has traditionally seen from this type of severe weather." Unfortunately, most policyholders have no idea that a public adjuster can help to level the playing field and be a great resource for the homeowner unfamiliar with the insurance claims process if you decide to file an insurance claim.
In 2011, wind and hail damage accounted for 46% of all homeowner and renter insurance claims. In 2012, wind and hail damage claims rose to 47.2%
Source: Insurance Information Institute
If you find yourself knee-deep in a mess that scares you, consider consulting a public adjuster who can advise you on the potentially costly issues that you now face. Unfortunately, most insurance carriers bank on the fact that most policyholders never read their policies. If you have never read the fine print in your policy and you have never filed a claim, you, like most policyholders will be at the mercy of the carrier for explanations of coverage and other questions about the policy. That's like putting a kid with a sweet-tooth in charge of your candy store – he's probably going to do a good job because he want to come back tomorrow, but, next week you're bound to figure out that you're missing some of your favorite treats.
And, let's not make any mistakes about this: no matter how nice your agent has been all those years because you've been paying your premiums, your agent may very well be totally out of the picture when it comes time for you to file a claim, and, most agents will not ever mention that utilizing a public adjuster is an option should you need to file an insurance claim.
From 2008 to 2012, the average property damage insurance claim cost $8255
Source: Insurance Information Institute
Here are some guidelines from experienced public adjusters to help you to quickly make the right decision about handling your insurance loss if you are a winter weather damage victim and you must file a claim because of a collapsed or crushed roof, frozen pipe flood or ice dam damage:
Tips to Stay on Top of the Damage
1. A good public adjuster is always armed with a camera and you should be too. If you see the damage, shoot it! Grab you cell phone and take pictures! Nothing works better than date and time stamped pictures or video to convince an insurance carrier that you are a bonafide victim. People try to fake this stuff all the time, but, you can quickly separate yourself from the frauds that carriers are always trying to weed out by simply having evidence that your mess is genuine, not your fault and covered by your policy.
2. Do not hesitate to take action to prevent further damage from happening to your property. In fact, your policy most likely requires you to do so.
3. CNN Money advises policyholders and renters very succinctly,"Your idea of fair compensation may not match that of your insurer. Your insurer's job is to restore you financially. Your job (and you can get a public adjuster to help you do this) is to prove your losses so you get what you need. At claims time, your insurer isn't necessarily your friend."
Insurance claims expense drives up the cost of premiums: from 2004 to 2012, premiums for homeowners insurance rose more than 40%
Source: Insurance Information Institute
4. Sometimes policyholders are afraid to file a claim and hire a public adjuster because they fear that their premiums will go up. If you are one these people, ask yourself this question: "Did I ever see my premiums increase during all those years I never filed a claim?" After you answer this honestly, proceed to the next tip.
5. Here's one that often make public adjusters cringe: If you report your damage to your carrier and your insurance company advises that you use a specific cleaning and restoration company, realize that you do NOT have to use that particular company; you are free to pick your own. So many policyholders mistakenly assume that they must go with the company that their carrier recommends. However, making this decision on your own (or with the help of a public adjuster) is one of the quickest ways to separate yourself from the herd of policyholders who get duped into sub-standard service by going with the cleanup crew sent in by an insurance carrier whose only goal is to save on the bottom line. Sometimes carriers recommend great restoration companies, however, I've heard from several homeowners who wish they hadn't gone with the restoration company their carrier first mentioned following a disaster. Unfortunately, some carriers send in the cheapest restoration company they can find, and the homeowner suffers in the end because the best work just won't get done by one of these outfits. If you know of a top-notch cleaning and restoration service, this is the time to call them. Perhaps you have a neighbor or family member who recently had a disaster – what company did they use that provided excellent results? The time to make the right decision is before you allow the wrong company into your home. The first step in fixing your mess is picking the right company at the start. A good public adjuster can be an excellent source for weeding out the "bad guys" in your local area.
Winter storms caused an estimated $2.3 billion in insurance claim losses in 2014, up from $1.9 billion in 2013
Source: Insurance Information Institute
6. Understand that when your carrier says to you, "You'll be hearing from YOUR adjuster", this person, no matter how nice he or she is, represents your carrier's interests, not yours. Any adjuster that you did not hire yourself is not really there to protect your interests. Very simply, insurance carriers are represented by either company or independent adjusters, policyholders' interests are represented by public adjusters.
7. If you spend money for supplies or equipment to do any of the cleanup, keep receipts. Realize that if you decide to do the cleanup yourself, you will most likely only be reimbursed for the cash that you can prove you spent. Your sweat, sleepless nights and labor will undoubtedly be appreciated, but, will most likely not be reimbursed by your insurance carrier. Once you have established that your loss is covered, it may be more cost effective in terms of your sweat equity to hire reputable restoration professionals who will assess and cleanup your damage and do the repair work better than you possibly could.
Public Adjusters remind homeowners of some basic preventive measures from the Insurance Information Institute to minimize damage and winter weather-related insurance claims:
8. Watch for ice dams near gutter downspouts. Keep gutters free of leaves and debris so melting snow and ice can flow freely. Ice dams can cause water to build up and seep into your house.
9. If your garage is attached to your house, keep the garage doors closed. The door leading to the house is probably not as well-insulated as an exterior door.
10. If you use fireplaces, wood stoves and electric heaters, watch them closely and make sure they are working properly.
Again, if you have any questions regarding fire, winter weather or blizzard damage to your home just remember that a good public adjuster can provide valuable information so that you and your family get the full value of the policy that protects your home and property.

>
This claim put French class back in action decades after school
I got the call from this particular client almost 2 months after Hurricane Sandy had stormed up the Connecticut coastline and wreaked havoc on thousands upon thousands of homes from Cos Cob to Stonington. Claude (not his real name) called my Branford office from Stamford one morning, and, the first thing I realized was that communication was going to be a challenge. My soon-to-be client had a heavy accent, and, from my years of "New York experience", I recognized that I was speaking with someone who was most likely Haitian. In all honesty, Claude was the kind of client for whom I had been waiting: inexperienced with the insurance game, disadvantaged because of a language barrier, and desperately in need of a public adjuster. Interestingly, he said he found me on the internet.
I made the 45 minute drive down to Stamford and visited Claude the next day. He greeted me at the door of his modest home and graciously welcomed me. He introduced his wife and I did my best to understand his explanation of how and where the storm damage had occurred to his home. Sometimes, I could not understand Claude's English very well at all, and I strongly suspected that he had delayed in filing his claim with his very well-known insurance company because he didn't know or understand that as a policyholder he should do so as quickly as possible. I had not studied French since boarding school at Phillips Academy in Andover, Massachusetts more than 30 years ago, but somehow, I managed to make my new client feel immediately more at ease when I managed to at least utter a cordial greeting or parting words in one of his native languages (my French teachers always said that I had a good accent "en français"). Claude spoke some English but obviously felt far more comfortable in French, Spanish or Creole. My client made it clear that he was hiring me to do all the talking to his homeowner's policy insurance carrier.
Claude's home had sustained some roof damage from the "Superstorm Sandy", and, there was also water damage inside in two of his bathrooms. However, after further investigation, we learned that the interior water damage was not the result of the roof damage caused by the hurricane, even though the best I could understand at the time was that it appeared shortly after. I brought in a plumber who inspected the bathroom where the ceiling had collapsed, and after inspecting the two bathrooms, he surmised that the damage to the ceiling in the first floor bathroom had been caused by cracked leaky, deteriorating tile in the second floor bathroom. This being the case, Claude was going to most likely have coverage for the roof damage clearly caused by the hurricane, but unfortunately, it looked like he was not going to have coverage for the interior damage because that appeared not to have been caused by either a plumbing defect, or as a result of the Hurricane Sandy damage to the roof.
¿Se habla español, tambien? = You speak Spanish, too?
A few days later, after the "storm trooper" from the insurance carrier inspected the damaged roof, he agreed it would be a covered loss. Next, we scheduled an appointment with the company adjuster who was to inspect the interior damage. When that adjuster arrived at the home, I described the details of this claim again (i.e. the language barrier, the multiple occurrences and how they became two claims, etc.). We visited the tenant in the second floor apartment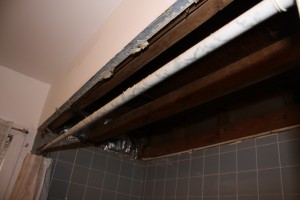 to inspect the cracked and broken tile that was visible in the bathroom shower. Once again, the language barrier was an issue: the tenants spoke more Spanish than English, but we did learn after speaking with Lorena (not her real name either), her husband and Claude all together, that water leaked into Claude's bathroom downstairs when someone used the shower upstairs. After the short discussion and quick inspection of the second floor bathroom, the company adjuster from Claude's "nameless"  insurance company soon got that look on her face, and I knew what I was going to hear next,"I'm sorry, but it doesn't sound like this is going to be a covered loss." I had explained earlier to Claude that this might happen.
Three languages later: the "miracle" of coverage
Now, I had just begun to explain what this meant (and why) to my client, who by this time had brought in his 17-year-old son to help with the translation. I told Claude and his son, Antoine ( not his real name) that this second claim for the interior damage to the bathrooms was most likely not going to result any coverage from their insurance carrier, but, I asked them again to explain how the damage in the bathrooms had happened. I motioned to Antoine to step into the bathroom right next to the company adjuster and to explain everything, to all of us again, from the beginning. Antoine squeezed by me so he could start his "show and tell". Then, shortly after he began his description of the chain of events in much better English than his father, he said something that instantly caught both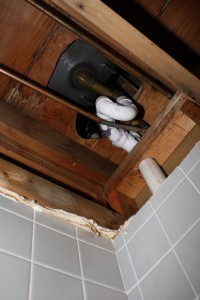 my and the company adjuster's attention. "Well, after the other plumber fixed the drain that was leaking, more of the ceiling fell and we saw more damage here and here," as he pointed inside the shower. "Wait a minute," I said, "There was a leaky drain?" I turned to the adjuster and said,"This the first I've heard that there was a leaky pipe here. This is news to me, and, it sounds like it might be good news." After getting a few more details from Antoine about the leaky drain that had been fixed prior to my representing Claude as a public adjuster, the company adjuster, smiled and said, "Well, now it sounds like we have a covered loss." I turned to Claude and said, "Claude, votre fils a fait tres bien ce matin" which meant, "Claude, your son did very well this morning".
And then, the company adjuster started taking measurements to estimate the cost of repairing the interior damage.
I felt good, no, really good about what had just happened. I mean it was like the United Nations of Public Adjusting. OK, Leon, get a grip. Well, maybe it was more like a crowded subway car. However I choose to describe it, IT was what I have missed the most about my New York experience since I had left the "Big City" years ago. People who at first did not necessarily understand each other very well, coming together and working out a settlement or fair solution. This was not going to be the biggest claim I had ever settled, but it was one that I knew where I had really helped a client who needed it, and one I would never forget.
I spoke with Antoine as I left. I said, "I figured out how your father found me on the internet: he talks – while you type on the computer." I had always noted how Claude's emails were in perfect English. Antoine smiled and said, "Yes."
Leon Collins, Public Adjuster Services
"Helping clients achieve fair settlements."

>

>

>
Burglars, Vandals, Thieves, Oh My!
It happens every day: home or business owners find that they've been hit by criminals who have destroyed, damaged or stolen property. The good news for policyholders is that in spite of the inconvenience and everything else that goes with being a crime victim, they at least have some recourse. However, when this kind of thing happens, it is often difficult to outline and execute an orderly plan of action to deal with such an experience. Sometimes, the emotions and typically chaotic scene can make it almost impossible to organize and respond to such an event effectively. Well, this is exactly the kind of situation in which a public adjuster can be most helpful.
What to do, step by step, to file the best claim
Here are some quick tips to help you file the best property insurance claim should you find yourself victim to theft or vandalism. If your do this stuff in the wrong order, it could cost you thousands of dollars.
First things first, LOOK AROUND and decide whether a potentially criminal threat remains. If you are not sure and are not ready to handle that possible threat, make sure that you and others such as family, employees or tenants get to a safe place. As soon as you are sure you are safe, CALL THE POLICE. It's so simple, but so many people fail to do this after they are convinced the threat is gone. Just remember, the local 9-1-1 dispatcher will send help and can be a source of great advice at a time when you will most likely be upset.
Second, DO NOT CLEAN UP THE MESS. Resist the temptation to clean broken glass, tile, sheet rock, or other damaged items. The police will want to see what happened before you clean up, and if there is the chance of investigators getting any sort of useful evidence from the crime scene, you certainly wouldn't want to destroy that. If wall outlets or fixtures have been ripped out or destroyed, this damage needs to be carefully recorded and documented for your claim before you start fixing anything.  If you feel like you must do something, whip out your cell phone and start taking your own pictures of the scene and what happened. Also, start making a list of missing items if things have been stolen. Doing this will help you document the damage: the pictures will be date and time-stamped and can be used later if you need to prove what happened. Most property insurance policies cover clean up and restoration expense, so why do it yourself? In fact, here are some good reasons to avoid D-I-Y repairs when an insurance claim is involved.

Third, CONSIDER GETTING A PUBLIC ADJUSTER TO HELP YOU WITH FILING YOUR INSURANCE CLAIM AS SOON AS POSSIBLE. It's very simple: involve your public adjuster early in the process of filing your claim and you maximize the opportunities that public adjuster can serve you and your interests. Involve the public adjuster too late and you may waste time and money.
Notify your insurance company. If they tell you they are sending either a company adjuster or an independent adjuster, read this useful information about different types of insurance adjusters.
Follow these simple steps above and you dramatically increase the chances of receiving a fair settlement for your property insurance claim after you've been the victim of theft or vandalism.
The City of New Haven has provided the public with results from a survey and analysis of the performance of Connecticut banks. New Haven worked with the Yale Law School to gather the stats and information. The Community Impact Report Card (or CIRC) measures bank performance in service areas ranging from home loan applications to fees.
City officials hope that consumer use of this new information will drive area banks to improve service for individuals and businesses.
New Haven mayor John DeStefano said, ""Financial literacy and access to traditional banking services are prerequisites for wealth creation today and are critical to a resurgent American economy. We cannot restore the nation's middle class until all families, particularly minority families and those new to this country have access to and faith in the traditional banking system. We cannot grow our local economies until responsible small businesses, particularly minority-owned small businesses, have access to basic lines of credit that enable them to expand their services and hire local residents."
The Community Impact Report Card surveyed banks within a 30 mile radius of New Haven, Connecticut. The report measured scores for area banks in two categories: home loans and banking products.
The Community Impact Report Card also considered banking services such as physical accessibility, ATM locations and features, personal savings and checking account features, small business account features, acceptance of the Elm City Resident Card, check cashing services and personal loan options.
Her are the scores for the top 10 banks in the CIRC survey:
1. First Niagara, 74 points
2. Bank of America, 73 points
3. People's United Bank, 68 points
4. JPMorgan Chase Bank, 66 points
5. Bank of Southern Connecticut, 63 points
6. Webster Bank, 61 points
7. RBS Citizens, 59 points
8. TD Bank, 59 points
9. Citibank, 56 points
10. Sovereign Bank New England, 56 points
11. Wells Fargo Bank, 53 points
For more information, visit New Haven's Community Impact Report (CIRC)
claimadjusterfire.com