This claim put French class back in action decades after school
I got the call from this particular client almost 2 months after Hurricane Sandy had stormed up the Connecticut coastline and wreaked havoc on thousands upon thousands of homes from Cos Cob to Stonington. Claude (not his real name) called my Branford office from Stamford one morning, and, the first thing I realized was that communication was going to be a challenge. My soon-to-be client had a heavy accent, and, from my years of "New York experience", I recognized that I was speaking with someone who was most likely Haitian. In all honesty, Claude was the kind of client for whom I had been waiting: inexperienced with the insurance game, disadvantaged because of a language barrier, and desperately in need of a public adjuster. Interestingly, he said he found me on the internet.
I made the 45 minute drive down to Stamford and visited Claude the next day. He greeted me at the door of his modest home and graciously welcomed me. He introduced his wife and I did my best to understand his explanation of how and where the storm damage had occurred to his home. Sometimes, I could not understand Claude's English very well at all, and I strongly suspected that he had delayed in filing his claim with his very well-known insurance company because he didn't know or understand that as a policyholder he should do so as quickly as possible. I had not studied French since boarding school at Phillips Academy in Andover, Massachusetts more than 30 years ago, but somehow, I managed to make my new client feel immediately more at ease when I managed to at least utter a cordial greeting or parting words in one of his native languages (my French teachers always said that I had a good accent "en français"). Claude spoke some English but obviously felt far more comfortable in French, Spanish or Creole. My client made it clear that he was hiring me to do all the talking to his homeowner's policy insurance carrier.
Claude's home had sustained some roof damage from the "Superstorm Sandy", and, there was also water damage inside in two of his bathrooms. However, after further investigation, we learned that the interior water damage was not the result of the roof damage caused by the hurricane, even though the best I could understand at the time was that it appeared shortly after. I brought in a plumber who inspected the bathroom where the ceiling had collapsed, and after inspecting the two bathrooms, he surmised that the damage to the ceiling in the first floor bathroom had been caused by cracked leaky, deteriorating tile in the second floor bathroom. This being the case, Claude was going to most likely have coverage for the roof damage clearly caused by the hurricane, but unfortunately, it looked like he was not going to have coverage for the interior damage because that appeared not to have been caused by either a plumbing defect, or as a result of the Hurricane Sandy damage to the roof.
¿Se habla español, tambien? = You speak Spanish, too?
A few days later, after the "storm trooper" from the insurance carrier inspected the damaged roof, he agreed it would be a covered loss. Next, we scheduled an appointment with the company adjuster who was to inspect the interior damage. When that adjuster arrived at the home, I described the details of this claim again (i.e. the language barrier, the multiple occurrences and how they became two claims, etc.). We visited the tenant in the second floor apartment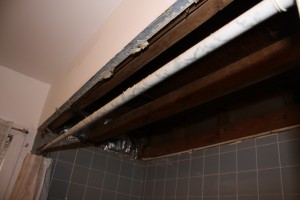 to inspect the cracked and broken tile that was visible in the bathroom shower. Once again, the language barrier was an issue: the tenants spoke more Spanish than English, but we did learn after speaking with Lorena (not her real name either), her husband and Claude all together, that water leaked into Claude's bathroom downstairs when someone used the shower upstairs. After the short discussion and quick inspection of the second floor bathroom, the company adjuster from Claude's "nameless"  insurance company soon got that look on her face, and I knew what I was going to hear next,"I'm sorry, but it doesn't sound like this is going to be a covered loss." I had explained earlier to Claude that this might happen.
Three languages later: the "miracle" of coverage
Now, I had just begun to explain what this meant (and why) to my client, who by this time had brought in his 17-year-old son to help with the translation. I told Claude and his son, Antoine ( not his real name) that this second claim for the interior damage to the bathrooms was most likely not going to result any coverage from their insurance carrier, but, I asked them again to explain how the damage in the bathrooms had happened. I motioned to Antoine to step into the bathroom right next to the company adjuster and to explain everything, to all of us again, from the beginning. Antoine squeezed by me so he could start his "show and tell". Then, shortly after he began his description of the chain of events in much better English than his father, he said something that instantly caught both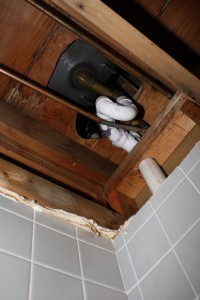 my and the company adjuster's attention. "Well, after the other plumber fixed the drain that was leaking, more of the ceiling fell and we saw more damage here and here," as he pointed inside the shower. "Wait a minute," I said, "There was a leaky drain?" I turned to the adjuster and said,"This the first I've heard that there was a leaky pipe here. This is news to me, and, it sounds like it might be good news." After getting a few more details from Antoine about the leaky drain that had been fixed prior to my representing Claude as a public adjuster, the company adjuster, smiled and said, "Well, now it sounds like we have a covered loss." I turned to Claude and said, "Claude, votre fils a fait tres bien ce matin" which meant, "Claude, your son did very well this morning".
And then, the company adjuster started taking measurements to estimate the cost of repairing the interior damage.
I felt good, no, really good about what had just happened. I mean it was like the United Nations of Public Adjusting. OK, Leon, get a grip. Well, maybe it was more like a crowded subway car. However I choose to describe it, IT was what I have missed the most about my New York experience since I had left the "Big City" years ago. People who at first did not necessarily understand each other very well, coming together and working out a settlement or fair solution. This was not going to be the biggest claim I had ever settled, but it was one that I knew where I had really helped a client who needed it, and one I would never forget.
I spoke with Antoine as I left. I said, "I figured out how your father found me on the internet: he talks – while you type on the computer." I had always noted how Claude's emails were in perfect English. Antoine smiled and said, "Yes."
Leon Collins, Public Adjuster Services
"Helping clients achieve fair settlements."

>